MEET THE MAKER
I'm 222, and I'm the webmaster of this site! c|:) I go by many other names(: Rex, Mino, «»), but really, anything will do. Same thing goes for my pronouns! Go nuts. c|x)
I am an artist and writer, as well, of which I almost xc100sively use to create content for my favorite characters, most notably, Tavros Nitram!! c|:D I also am a huge fan of music (metal, rock, literally anything that sounds good to me) and fashion (lolita, goth, suits, skirts, dresses… You name it!).
Like Tavros Nitram, I like to believe in fairies and magic. Same goes for reincarnation, alternate and parallel universes, and the paranormal. Because I think it's fun. c|:3
I have a typing quirk of sorts, too, where I like to replace x sounds with the letter x (like thanx, graphix, faxion..) and sometimes replace loo/ool sounds with 100/001! (Like b100d, 100kout..) Again, because I think it's fun. c|x3 Also because it's just easier to pronounce. Lol.
ANGEL NUMBER 222
On January 17, 2023, sometime after I got into Homestuck and really needed a proper place to ramble, I made ANGEL NUMBER 222! (Instead of using my now deactivated Twitter account, I made an entire site.) (..I was really shy about it back then. "vv)
I felt really out of place on most internet (and real life...) spaces, and admittedly, I still do now! So, ANGEL NUMBER 222 was made as a sort of virtual home for me, where I can thrive and be as weird as I want despite that. And damn, it does its job well, if you couldn't already tell by the Tavros plastered onto this site's main iframe!!!
Anyway. c|:) When I first (very nervously) claimed the twohundredtwentytwo.neocities.org domain, and therefore created this site, I did not know how to code shit! The only xperience I had was coding simple petsite bios, and even then, they were made out of tables. Hence the first layout 100king like this: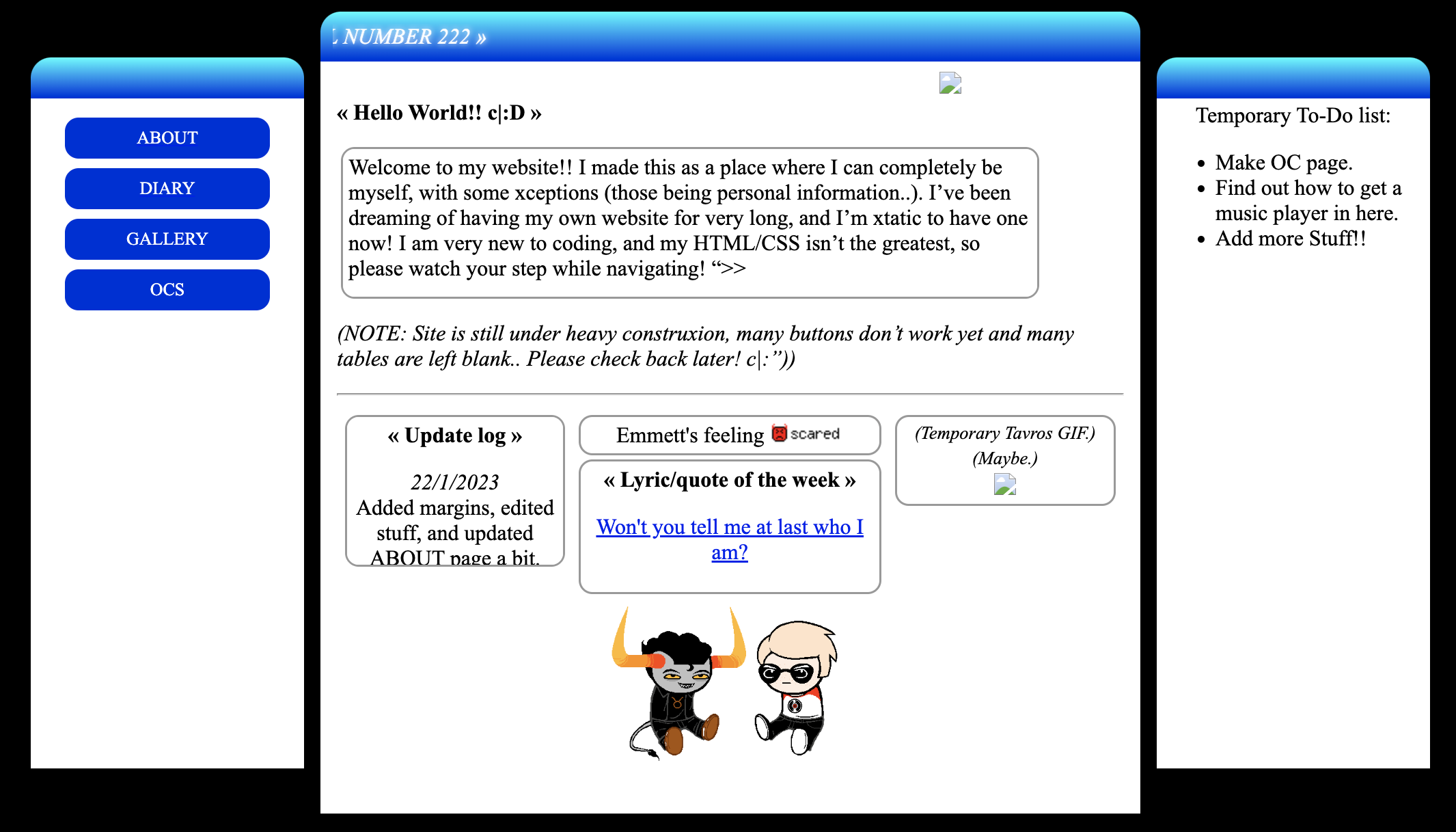 Screenshot taken from one of my downloaded archives..
The broken image linx..!! So embarrassing..... c|x""(
Funny thing is, after realizing that most people used divs instead of tables, I still didn't touch any of the Neocities tutorials. If I remember right, I didn't even know that they had them!! It was me and my shitty coding + learning skills against the world.. While dozens of people were right beside me as I naively ignored their offers of help and got my ass beat by the Neocities code editor multiple times. This is not a rare xperience for me whatsoever. (Frequent axcidental ignorer here...)
After a few months of me f001ing around and axually reading a tutorial for once, the layout evolved into its current look! A very hastily put together look, just like before..
Well, at least it loox prettier. c|:)